MTK6588 / MTK6589 Official MediaTek Conference Holds Surprises!
---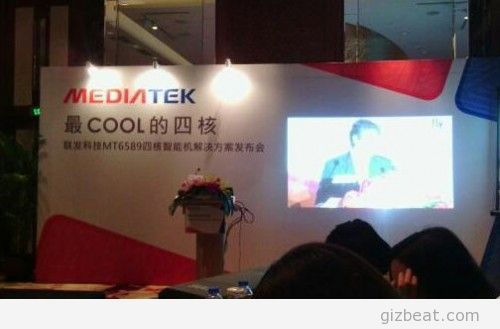 Up until now, there was nothing sure about the MTK6588 / MTK6589. Today that all changed when MediaTek held an official conference and released the definitive specs of the new quad-core MTK6588 / MTK6589. Read on for the high points.
Official LCD resolution support will be full 1080p HD! This is right in line with the GizBeat prediction from a couple months back. What was leaked previously was the MTK6588 / MTK6589 would officially support 720p.
Full HD 1080p encoding and decoding support
Cool 3D platform support – A new technology just released in September 2012 is new 3D tech that improves upon previous glasses-free 3D and supposedly doesn't have the same dizziness factor. MTK6588 / MTK6589 will offer full hardware support for this new technology.
Miracast wireless  – "Miracast is a peer-to-peer wireless screencast standard created by the Wi-Fi Alliance. Billed as an open alternative to Apple's AirPlay Mirroring, it allows users to, for example, echo display from a phone made by Company A onto a TV made by Company B, share a laptop screen with the conference room projector in real-time, and watch live programs from a home cable box on a tablet. Miracast connections are formed via Wi-Fi Direct, which allows direct wi-fi connections in a similar manner to bluetooth. Miracast only works over wi-fi. It cannot be used to stream to an ethernet-connected device via a standard wi-fi network. On 29 October 2012, Google announced that Android version 4.2 (updated version of Jelly Bean) will support the Miracast wireless display standard, and by default will have integrated features for it." – (Excerpt from Wikipedia)
SoC (system on chip) support for HSPA+ HMTS dual-SIM standby and integrated W + G / TD + G / W + TD
Image noise cancellation and enhancement technology promises better out of the box support for cameras.
Full DirectX 9 support with the on-board 5xT SGX544 GPU.
28nm Cortex A7 architecture is a double whammy as the A7 architecture is by design an excellent power-saving system. As well the reduction to 28nm process will increase power-saving even further. I fully expect to see at least a 20% increase in battery life given the same size battery and usage.
There it is. Most of this we knew, but the Miracast, Cool 3D and official support of 1080p LCD resolution weren't previously leaked.
Excited yet? GizBeat is, but you can bet Qualcomm isn't. As already mentioned, many big-name companies are hopping on board the MediaTek choo-choo.
MTK6588 / MTK6589 Official MediaTek Conference Holds Surprises!

https://www.gizbeat.com/1488/mtk6588-mtk6589-official-mediatek-conference-with-surprises/

https://www.gizbeat.com/wp-content/uploads/2012/12/mediatek-release-450x296.jpg

https://www.gizbeat.com/wp-content/uploads/2012/12/mediatek-release-150x150.jpg

Noteworthy

Up until now, there was nothing sure about the MTK6588 / MTK6589. Today that all changed when MediaTek held an official conference and released the definitive specs of the new quad-core MTK6588 / MTK6589. Read on for the high points. Official LCD resolution support will be full 1080p HD! This...

<img class="aligncenter size-full wp-image-1489" title="mediatek-release" src="http://gizbeat.com/wp-content/uploads/2012/12/mediatek-release.jpg" alt="" width="500" height="329" />Up until now, there was nothing sure about the MTK6588 / MTK6589. Today that all changed when MediaTek held an official conference and released the definitive specs of the new quad-core MTK6588 / MTK6589. Read on for the high points.<span id="more-1488"></span> <ul> <li>Official LCD resolution support will be full 1080p HD! <a title="MTK6588 Resolution Prediction (MTK mt6588 – part 4)" href="http://gizbeat.com/317/mtk6588-resolution-prediction-mtk-mt6588-part-4/">This is right in line with the GizBeat prediction from a couple months back</a>. What was leaked previously was the MTK6588 / MTK6589 would officially support 720p.</li> <li>Full HD 1080p encoding and decoding support</li> <li>Cool 3D platform support - A new technology just released in September 2012 is new 3D tech that improves upon previous glasses-free 3D and supposedly doesn't have the same dizziness factor. MTK6588 / MTK6589 will offer full hardware support for this new technology.</li> <li>Miracast wireless  - "Miracast is a peer-to-peer wireless screencast standard created by the Wi-Fi Alliance. Billed as an open alternative to Apple's AirPlay Mirroring, it allows users to, for example, echo display from a phone made by Company A onto a TV made by Company B, share a laptop screen with the conference room projector in real-time, and watch live programs from a home cable box on a tablet. Miracast connections are formed via Wi-Fi Direct, which allows direct wi-fi connections in a similar manner to bluetooth. Miracast only works over wi-fi. It cannot be used to stream to an ethernet-connected device via a standard wi-fi network. On 29 October 2012, Google announced that Android version 4.2 (updated version of Jelly Bean) will support the Miracast wireless display standard, and by default will have integrated features for it." - <a href="http://en.wikipedia.org/wiki/Miracast" target="_blank"><em>(Excerpt from Wikipedia)</em></a></li> <li>SoC (system on chip) support for HSPA+ HMTS dual-SIM standby and integrated W + G / TD + G / W + TD</li> <li>Image noise cancellation and enhancement technology promises better out of the box support for cameras.</li> <li>Full DirectX 9 support with the on-board 5xT SGX544 GPU.</li> <li>28nm Cortex A7 architecture is a double whammy as the A7 architecture is by design an excellent power-saving system. As well the reduction to 28nm process will increase power-saving even further. I fully expect to see at least a 20% increase in battery life given the same size battery and usage.</li> </ul> There it is. Most of this we knew, but the Miracast, Cool 3D and official support of 1080p LCD resolution weren't previously leaked. Excited yet? GizBeat is, but you can bet Qualcomm isn't. <a title="Another Big Name Manufacturer Adopts MediaTek!" href="http://gizbeat.com/1360/another-big-name-manufacturer-adopts-mediatek/">As already mentioned, many big-name companies are hopping on board the MediaTek choo-choo</a>.

Damian Parsons

https://plus.google.com/107879368390224447304

admin@gizbeat.com

Administrator

Hi, I'm Damian Parsons. I've been working with Android phones since the first Droid came out. I'm fascinated by computers and technology. My first BBS were ran on an old Apple IIc and Commodore 64. I work hard to bring the latest updates to you every day - without all the boring fluff. Please subscribe to keep up on the newest China tech. See our forum -> www.chinaphonearena.com

GizBeat
---
---