Here Comes The JiaYu G4!
---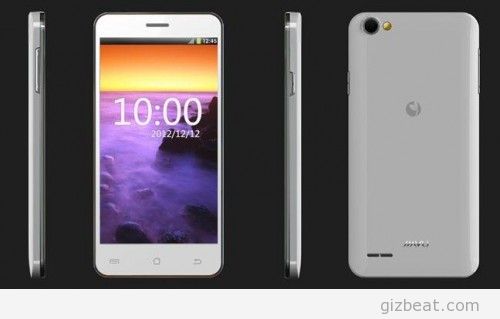 Most of us still can't get our hands on a JiaYu G3 at a decent price, but the JiaYu G4 is already on the way.
JiaYu took advantage of the hype around the MediaTek news conference and let out a little news of their own.
Apparently there will be two different JiaYu G4. Though both similar in looks, one will be 10mm deep with a gargantuan 3000mA battery and the other version will be 8.2mm deep with an 1800mA battery. For GizBeat, the 3000mA version is the easy choice.
The LCD will be 720p IPS and will get a bump up to 4.7″. It's also been confirmed the CPU will be MediaTek's MTK6588 / MTK6589 clocked at 1.2GHz.
Price and memory configuration yet to be announced.
Here Comes The JiaYu G4!

https://www.gizbeat.com/1495/here-comes-the-jiayu-g4/

https://www.gizbeat.com/wp-content/uploads/2012/12/jiayu-g4-mtk6588-mtk6589-450x287.jpg

https://www.gizbeat.com/wp-content/uploads/2012/12/jiayu-g4-mtk6588-mtk6589-150x150.jpg

Brands

JiaYu

Noteworthy

Most of us still can't get our hands on a JiaYu G3 at a decent price, but the JiaYu G4 is already on the way. JiaYu took advantage of the hype around the MediaTek news conference and let out a little news of their own. Apparently there will be two different...

<img class="aligncenter size-full wp-image-1497" title="" alt="" src="http://gizbeat.com/wp-content/uploads/2012/12/jiayu-g4-mtk6588-mtk65891.jpg" width="500" height="319" />Most of us still can't get our hands on a JiaYu G3 at a decent price, but the JiaYu G4 is already on the way.<span id="more-1495"></span> JiaYu took advantage of the hype around the MediaTek news conference and let out a little news of their own. Apparently there will be two different JiaYu G4. Though both similar in looks, one will be 10mm deep with a gargantuan 3000mA battery and the other version will be 8.2mm deep with an 1800mA battery. For GizBeat, the 3000mA version is the easy choice. The LCD will be 720p IPS and will get a bump up to 4.7". It's also been confirmed the CPU will be MediaTek's MTK6588 / MTK6589 clocked at 1.2GHz. Price and memory configuration yet to be announced.

Damian Parsons

https://plus.google.com/107879368390224447304

admin@gizbeat.com

Administrator

Hi, I'm Damian Parsons. I've been working with Android phones since the first Droid came out. I'm fascinated by computers and technology. My first BBS were ran on an old Apple IIc and Commodore 64. I work hard to bring the latest updates to you every day - without all the boring fluff. Please subscribe to keep up on the newest China tech. See our forum -> www.chinaphonearena.com

GizBeat
---
---