Zopo zp300+ Dual-Core Dual-Sim China phone with mtk6577 released
---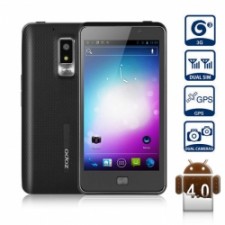 Just the last month or so, phones with the mtk mt6577 / mtk6577 dual-core CPU have started to be released.  Zopo looked like they were a bit behind the curve because their new smartphones had the older gen mtk6755.  Which still is a fine CPU, but with the MTK MT6589 / MTK6589 quad-core right around the corner, you don't want to look decidedly low tech with your single core CPU do you?
Well, Zopo is well aware and made the changes to suit.  Their zp300 has a been upgraded to zp300+ with mtk mt6577 / mtk6577 dual-core. Excellent news for the consumer!
The specs:
 4.5 inch LG QHD screen, 1280 x 720 pixel
 MTK MT6577 Dual Core 1GHz processor, GPU: PowerVR SGX531
 Support GSM & WCDMA 3G network
 1GB RAM / 4GB ROM
 8.0MP rear camera, 2.0MP front camera
 Support WiFi, Bluetooth, GPS
 Android 4.0.3 OS w/upgrade to Jelly Bean when it's released
We're really loving this phone.  While the zp900 is an awesome model to be sure, it comes with awesome size as well.  The zp300+ takes it down a notch to 4.5″ (zp900 is 5.3).
What's great is we still get the new dual-core mtk mt6577 / mtk6577, 1gb RAM and Sony camera along with the front 2.0 mp, and great resolution of 1280×720 making it 720p!  Great for playing back 720p movies and all around smoothness while looking at pics and webpages.
What we'd really like, and are expecting to see, is the zp100 or zp500 with the new mtk mt6577 / mtk6577.  We'll keep you updated if Zopo makes it happen.
As always, we welcome your comments.
Zopo zp300+ Dual-Core Dual-Sim China phone with mtk6577 released

https://www.gizbeat.com/18/dual-core-dual-sim-china-zopo-zp300-with-mtk6577-released/

https://www.gizbeat.com/wp-content/uploads/2012/09/1344985563818-P-365196.jpg

https://www.gizbeat.com/wp-content/uploads/2012/09/1344985563818-P-365196-150x150.jpg

Brands

MT6577

MTK6577

Zopo

Just the last month or so, phones with the mtk mt6577 / mtk6577 dual-core CPU have started to be released.  Zopo looked like they were a bit behind the curve because their new smartphones had the older gen mtk6755.  Which still is a fine CPU, but with the MTK...

<a href="http://gizbeat.com/18/dual-core-dual-sim-china-zopo-zp300-with-mtk mt6577 / mtk6577-released/1344985563818-p-365196/" rel="attachment wp-att-19"><img class="alignleft size-medium wp-image-19" title="1344985563818-P-365196" src="http://gizbeat.com/wp-content/uploads/2012/09/1344985563818-P-365196-225x225.jpg" alt="" width="225" height="225" /></a>Just the last month or so, phones with the mtk mt6577 / mtk6577 dual-core CPU have started to be released.  Zopo looked like they were a bit behind the curve because their new smartphones had the older gen mtk6755.  Which still is a fine CPU, but with the MTK MT6589 / MTK6589 quad-core right around the corner, you don't want to look decidedly low tech with your single core CPU do you? Well, Zopo is well aware and made the changes to suit.  Their zp300 has a been upgraded to zp300+ with mtk mt6577 / mtk6577 dual-core. Excellent news for the consumer! The specs: <span id="more-18"></span> <ul> <li> 4.5 inch LG QHD screen, 1280 x 720 pixel</li> <li> MTK MT6577 Dual Core 1GHz processor, GPU: PowerVR SGX531</li> <li> Support GSM &amp; WCDMA 3G network</li> <li> 1GB RAM / 4GB ROM</li> <li> 8.0MP rear camera, 2.0MP front camera</li> <li> Support WiFi, Bluetooth, GPS</li> <li> Android 4.0.3 OS w/upgrade to Jelly Bean when it's released</li> </ul> We're really loving this phone.  While the zp900 is an awesome model to be sure, it comes with awesome size as well.  The zp300+ takes it down a notch to 4.5" (zp900 is 5.3). What's great is we still get the new dual-core mtk mt6577 / mtk6577, 1gb RAM and Sony camera along with the front 2.0 mp, and great resolution of 1280x720 making it 720p!  Great for playing back 720p movies and all around smoothness while looking at pics and webpages. What we'd really like, and are expecting to see, is the zp100 or zp500 with the new mtk mt6577 / mtk6577.  We'll keep you updated if Zopo makes it happen. As always, we welcome your comments.

dircnirc@gizbeat.com

User

GizBeat
---
---