New SP Flash Tool Download!
---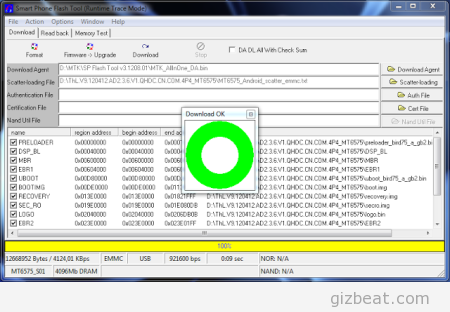 We just posted the newer SP Flash Tool. Version 3.1328.0 (v3.1328.0.sn183). This takes the place of the older 3.1316.0 and 3.1324.0 SP Flash Tools.
SP Flash Tool is used for:
flashing China phones with MTK6575 / MTK6577 / MTK6589 / MTK6589T / MediaTek / MTK CPUs / SoCs
flashing stock and custom firmware / ROMs
flashing CWM and TWRP to gain custom recoveries and for root purposes
reading back your ROM / firmware for backup purposes.
testing NAND / RAM / eMMC
flashing paramaters
writing to memory
You can download it at this thread on the forum.
New SP Flash Tool Download!

https://www.gizbeat.com/2342/new-sp-flash-tool-download/

https://www.gizbeat.com/wp-content/uploads/2013/10/spflashtool-450x303.png

https://www.gizbeat.com/wp-content/uploads/2013/10/spflashtool-150x150.png

Noteworthy

Software

We just posted the newer SP Flash Tool. Version 3.1328.0 (v3.1328.0.sn183). This takes the place of the older 3.1316.0 and 3.1324.0 SP Flash Tools. SP Flash Tool is used for: flashing China phones with MTK6575 / MTK6577 / MTK6589 / MTK6589T / MediaTek / MTK CPUs / SoCs flashing stock...

<img class="aligncenter size-large wp-image-2343" alt="spflashtool" src="http://gizbeat.com/wp-content/uploads/2013/10/spflashtool-450x312.png" width="450" height="312" />We just posted the newer SP Flash Tool. Version 3.1328.0 (v3.1328.0.sn183). This takes the place of the older 3.1316.0 and 3.1324.0 SP Flash Tools. <span id="more-2342"></span> <span style="text-decoration: underline;"><strong>SP Flash Tool is used for:</strong> </span> <ul> <li>flashing China phones with MTK6575 / MTK6577 / MTK6589 / MTK6589T / MediaTek / MTK CPUs / SoCs</li> <li>flashing stock and custom firmware / ROMs</li> <li>flashing CWM and TWRP to gain custom recoveries and for root purposes</li> <li>reading back your ROM / firmware for backup purposes.</li> <li>testing NAND / RAM / eMMC</li> <li>flashing paramaters</li> <li>writing to memory</li> </ul> You can download it at <a href="http://chinaphonearena.com/forum/Thread-Tool-MTK-SP-Flash-Tools-v3-1316-0-v3-1324-0" target="_blank">this thread on the forum</a>.

Damian Parsons

https://plus.google.com/107879368390224447304

admin@gizbeat.com

Administrator

Hi, I'm Damian Parsons. I've been working with Android phones since the first Droid came out. I'm fascinated by computers and technology. My first BBS were ran on an old Apple IIc and Commodore 64. I work hard to bring the latest updates to you every day - without all the boring fluff. Please subscribe to keep up on the newest China tech. See our forum -> www.chinaphonearena.com

GizBeat
---
---