Sneak Peak At The MTK6592 Motherboard & TCL To Release MTK6592 In November?
---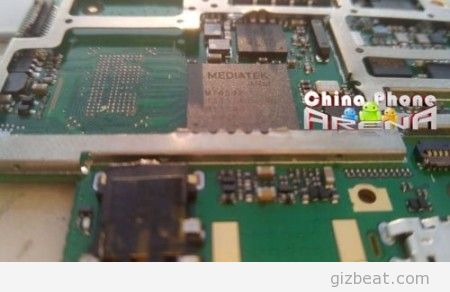 Nothing Gizbeat likes more than news about a new MediaTek CPU. We've already published a couple of breaking news articles about MTK6592, but here's an interesting shot of what looks to be the MTK6592 SoC nested in a prototype motherboard.
Along with this picture we have a rumor that TCL will be releasing an MTK6592 smartphone in November. Last year it was rumored that TCL would be the first out the gate with an MTK6589 quad-core phone, but that high honor went to Gionee.
It won't be surprising to see MTK6592 phones coming out before we see 2014. TCL fans are hoping it will be TCL out the gate first this time. A month or three should tell the tale.
Sneak Peak At The MTK6592 Motherboard & TCL To Release MTK6592 In November?

https://www.gizbeat.com/2376/sneak-peak-at-the-mtk6592-motherboard-tcl-to-release-mtk6592-in-november/

https://www.gizbeat.com/wp-content/uploads/2013/10/mtk-6592-1-450x289.jpg

https://www.gizbeat.com/wp-content/uploads/2013/10/mtk-6592-1-150x150.jpg

MTK6592

Nothing Gizbeat likes more than news about a new MediaTek CPU. We've already published a couple of breaking news articles about MTK6592, but here's an interesting shot of what looks to be the MTK6592 SoC nested in a prototype motherboard. Along with this picture we have a rumor that...

<img class="aligncenter size-large wp-image-2377" alt="mtk-6592-1" src="http://gizbeat.com/wp-content/uploads/2013/10/mtk-6592-1-450x292.jpg" width="450" height="292" />Nothing Gizbeat likes more than news about a new MediaTek CPU. We've already published a <a title="More Breaking MTK6592 8-core/octa-core News!" href="http://gizbeat.com/2240/more-breaking-mtk6592-8-coreocta-core-news/">couple</a> of <a title="Super-Breaking! More MTK6592 8-core/octa-core Details!" href="http://gizbeat.com/2225/super-breaking-more-mtk6592-8-coreocta-core-details/">breaking news</a> articles <a title="MediaTek MTK6592 8-Core (Octa-Core) Update!" href="http://gizbeat.com/2216/mediatek-mtk6592-8-core-octa-core-update/">about MTK6592</a>, but here's an interesting shot of what looks to be the MTK6592 SoC nested in a prototype motherboard. <span id="more-2376"></span> Along with this picture we have a rumor that TCL will be releasing an MTK6592 smartphone in November. Last year it was rumored that TCL would be the first out the gate with an MTK6589 quad-core phone, but that high honor went to Gionee. It won't be surprising to see MTK6592 phones coming out before we see 2014. TCL fans are hoping it will be TCL out the gate first this time. A month or three should tell the tale.

Damian Parsons

https://plus.google.com/107879368390224447304

admin@gizbeat.com

Administrator

Hi, I'm Damian Parsons. I've been working with Android phones since the first Droid came out. I'm fascinated by computers and technology. My first BBS were ran on an old Apple IIc and Commodore 64. I work hard to bring the latest updates to you every day - without all the boring fluff. Please subscribe to keep up on the newest China tech. See our forum -> www.chinaphonearena.com

GizBeat
---
---