Software of the week – Incendia EX V Fractal and abstract tattoo generator (gallery)
---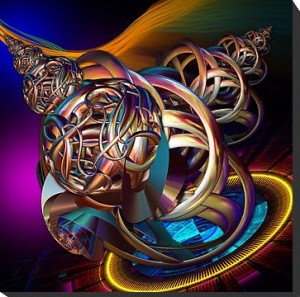 From time to time, I'd like to mention some software I find extremely useful or cool.  The software this go-around was happened upon by chance via a google search for software called "Apophysis", which was recommended by my brother.  I read a bit about it on the net and saw some of the amazing images it can create, and before I downloaded it, came across Incendia.
I downloaded and installed Incendia because I read something about "auto" mode…  From my initial readings about Apophysis, it appeared that it required scripting to create the images.  Auto-mode with Incendia sounded cool… Wrapping my head around fractal scripting wasn't something I had in mind for this evening.  After further research, it looks like Apophysis also supports auto mode, but I haven't made it far enough to check it out yet.
Install was very easy and straightforward.  No toolbars or junk installed along with the program.  This is donationware.  There are a couple of extra goodies you get if you donate, but more or less the non-donationware version is the full deal.  However, with software this cool, if you find any use for it, you might want to consider helping the fellow out with a few bucks.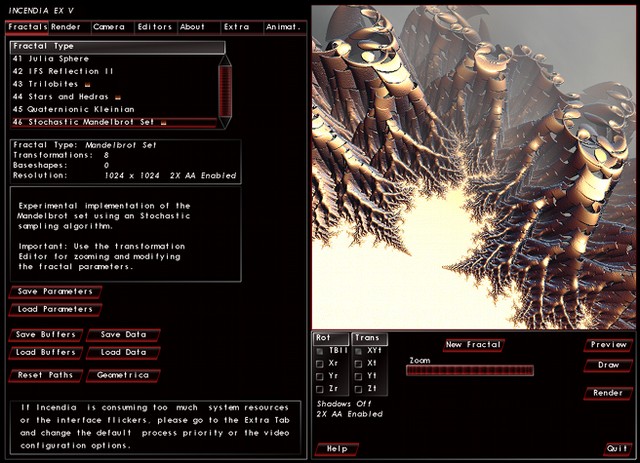 The program is straightforward for layman to create cool auto images.  Select a fractal type (47 included) and it auto generates a fractal based on that type.  By clicking "new fractal", you'll automatically generate a new and often entirely different looking fractal based on the same script.  Sometimes I'd choose a fractal type and not much would come up, but when clicking "new fractal", amazing images would be generated.
For people wanting to get into the grit of fractals, you can script your own fractals as well.
The default setting is 2048×2048.  One strange thing I noticed was that when I selected 1024×1024, the actual setting wouldn't change.  After trying "volumetric" in a different tab and then cancelling, the setting in the main menu changed to what I'd selected.
One thing I might mention, is that though the basic shapes and previews don't take long at all, actual rendering can take literally take weeks depending on the complexity of the fractal and power of your PC.  Google "render time incendia" for some good ideas about how to cut it down.  One tip I learned was that by saving the buffer, you can continue rendering at a later time if you have to shut down your PC.
If you have any interest in art/computer graphics/fractals, or are just plain bored…Even if you don't render it, and play around with the previews, this is an awesome way to spend some time.
Also an awesome way to come up with abstract tattoos that will be completely unique…Unless someone copies your tattoo that is.
The download is here: http://www.incendia.net/download/
[portfolio_slideshow]
Software of the week – Incendia EX V Fractal and abstract tattoo generator (gallery)

https://www.gizbeat.com/246/software-of-the-week-incendia-ex-v-fractal-and-abstract-tattoo-generator/

https://www.gizbeat.com/wp-content/uploads/2012/09/Incendia00011.jpg

https://www.gizbeat.com/wp-content/uploads/2012/09/Incendia00011-150x150.jpg

Software

From time to time, I'd like to mention some software I find extremely useful or cool.  The software this go-around was happened upon by chance via a google search for software called 'Apophysis', which was recommended by my brother.  I read a bit about it on the net and...

<a href="http://gizbeat.com/246/software-of-the-week-incendia-ex-v-fractal-and-abstract-tattoo-generator/incendia00011/" rel="attachment wp-att-272"><img class="alignleft size-medium wp-image-272" title="Incendia00011" src="http://gizbeat.com/wp-content/uploads/2012/09/Incendia00011-300x297.jpg" alt="" width="300" height="297" /></a>From time to time, I'd like to mention some software I find extremely useful or cool.  The software this go-around was happened upon by chance via a google search for software called "Apophysis", which was recommended by my brother.  I read a bit about it on the net and saw some of the amazing images it can create, and before I downloaded it, came across Incendia.<span id="more-246"></span> I downloaded and installed Incendia because I read something about "auto" mode...  From my initial readings about Apophysis, it appeared that it required scripting to create the images.  Auto-mode with Incendia sounded cool... <strong>Wrapping my head around fractal scripting wasn't something I had in mind</strong> for this evening.  After further research, it looks like Apophysis also supports auto mode, but I haven't made it far enough to check it out yet. <strong>Install was very easy and straightforward.  No toolbars or junk installed along with the program.</strong>  This is donationware.  There are a couple of extra goodies you get if you donate, but more or less the non-donationware version is the full deal.  However, with software this cool, if you find any use for it, you might want to consider helping the fellow out with a few bucks. <a href="http://gizbeat.com/246/software-of-the-week-incendia-ex-v-fractal-and-abstract-tattoo-generator/incendia00005/" rel="attachment wp-att-267"><img class="alignleft size-full wp-image-267" title="Incendia00005" src="http://gizbeat.com/wp-content/uploads/2012/09/Incendia00005.jpg" alt="" width="640" height="463" /></a> <strong>The program is straightforward for layman to create cool auto images.</strong>  Select a fractal type (47 included) and it auto generates a fractal based on that type.  By clicking "new fractal", you'll automatically generate a new and often entirely different looking fractal based on the same script.  Sometimes I'd choose a fractal type and not much would come up, but when clicking "new fractal", amazing images would be generated. <strong>For people wanting to get into the grit of fractals, you can script your own fractals as well.</strong> The default setting is 2048x2048.  One strange thing I noticed was that when I selected 1024x1024, the actual setting wouldn't change.  After trying "volumetric" in a different tab and then cancelling, the setting in the main menu changed to what I'd selected. One thing I might mention, is that though the basic shapes and previews don't take long at all,<strong> actual rendering can take literally take weeks depending on the complexity of the fractal and power of your PC</strong>.  Google "render time incendia" for some good ideas about how to cut it down.  One tip I learned was that <strong>by saving the buffer, you can continue rendering at a later time</strong> if you have to shut down your PC. <strong>If you have any interest in art/computer graphics/fractals, or are just plain bored</strong>...Even if you don't render it, and play around with the previews, this is an awesome way to spend some time. <strong>Also an awesome way to come up with abstract tattoos that will be completely unique</strong>...Unless someone copies your tattoo that is. The download is here: <a href="http://www.incendia.net/download/" target="_blank">http://www.incendia.net/download/</a> <span style="text-align: center;">[portfolio_slideshow]</span>

Damian Parsons

https://plus.google.com/107879368390224447304

admin@gizbeat.com

Administrator

Hi, I'm Damian Parsons. I've been working with Android phones since the first Droid came out. I'm fascinated by computers and technology. My first BBS were ran on an old Apple IIc and Commodore 64. I work hard to bring the latest updates to you every day - without all the boring fluff. Please subscribe to keep up on the newest China tech. See our forum -> www.chinaphonearena.com

GizBeat
---
---