MTK6592 vs Qualcomm Battery Efficiency Images!
---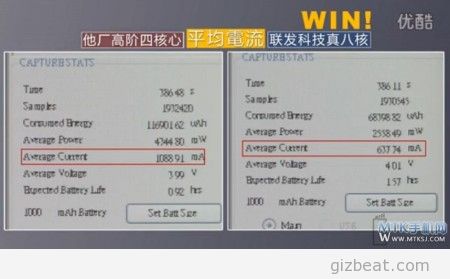 Here we have some recent images showing the power efficiency of MT6592. They are touting MTK6592 as being 40% more efficient than the Qualcomm Snapdragon 800. The ARM Cortex A7 is indeed very efficient, and actually ARM says "The ARM Cortex™-A7 MPCore™ processor is the most efficient application processor ARM has ever developed". A bold statement, but you don't see them saying this about any of their other architectures, so let's take them at their word.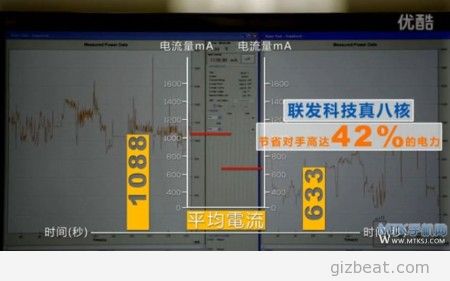 On one hand it's a bit disappointing that MTK6592 didn't decide to go with a big.LITTLE configuration. This is exactly what Cortex A7 was designed for – working in tandem with Cortex A15. However, there are a couple points worth noting:
power wise, there should be no concerns about running Android very smoothly. Octa-core MT6592 with Cortex A7 is more than enough to handle the regular CPU stresses you're likely to throw at it. The only area it may falter against the competition is in areas such as video processing or other extreme CPU intensive tasks. Normal and even power users needing more than what this SoC offers.
the GPU will be handling the overwhelming share of the graphics work load. In ancient Android MediaTek times (circa 2010), MTK CPUs did all the work. There was no GPU to help with the specific tasks that games and graphics intensive apps brought.  Luckily we're in 2013 and graphics intensive operations will be handled by the more than capable Mali450-MP4.
costs are another thing to consider. Most of us are going with China brand phones not only because they're so cool, but because the offer great bang for the buck. Licensing of ARM big.LITTLE technology is pricier than licensing Cortex A7 alone.
I'll be exploring the first point more in an upcoming post.
MTK6592 vs Qualcomm Battery Efficiency Images!

https://www.gizbeat.com/2506/mtk6592-vs-qualcomm-battery-efficiency-images/

https://www.gizbeat.com/wp-content/uploads/2013/11/mtk-6592-450x267.jpg

https://www.gizbeat.com/wp-content/uploads/2013/11/mtk-6592-150x150.jpg

MediaTek

MTK6592

Noteworthy

Here we have some recent images showing the power efficiency of MT6592. They are touting MTK6592 as being 40% more efficient than the Qualcomm Snapdragon 800. The ARM Cortex A7 is indeed very efficient, and actually ARM says 'The ARM Cortex™-A7 MPCore™ processor is the most efficient application processor...

<img class="aligncenter size-large wp-image-2507" alt="mtl6592" src="http://gizbeat.com/wp-content/uploads/2013/11/mtl6592-450x279.jpg" width="450" height="279" /> Here we have some recent images showing the power efficiency of MT6592. They are touting MTK6592 as being 40% more efficient than the Qualcomm Snapdragon 800. The ARM Cortex A7 is indeed very efficient, and actually ARM says "The ARM Cortex™-A7 MPCore™ processor is the most efficient application processor ARM has ever developed". <span id="more-2506"></span>A bold statement, but you don't see them saying this about any of their other architectures, so let's take them at their word.<img class="aligncenter size-large wp-image-2508" alt="mtk-6592" src="http://gizbeat.com/wp-content/uploads/2013/11/mtk-6592-450x281.jpg" width="450" height="281" /> On one hand it's a bit disappointing that MTK6592 didn't decide to go with a <a href="http://gizbeat.com/2240/more-breaking-mtk6592-8-coreocta-core-news/">big.LITTLE configuration.</a> This is exactly what Cortex A7 was designed for - working in tandem with Cortex A15. However, there are a couple points worth noting: <ul> <li>power wise, there should be no concerns about running Android very smoothly. Octa-core MT6592 with Cortex A7 is more than enough to handle the regular CPU stresses you're likely to throw at it. The only area it may falter against the competition is in areas such as video processing or other extreme CPU intensive tasks. Normal and even power users needing more than what this SoC offers.</li> <li>the GPU will be handling the overwhelming share of the graphics work load. In ancient Android MediaTek times (circa 2010), MTK CPUs did all the work. There was no GPU to help with the specific tasks that games and graphics intensive apps brought.  Luckily we're in 2013 and graphics intensive operations will be handled by the more than capable <a title="MTK6592 To Get Mali-450MP4! Two New SoC From MediaTek!" href="http://gizbeat.com/2382/mtk6592-to-get-mali-450mp4-two-new-soc-from-mediatek/">Mali450-MP4.</a></li> <li>costs are another thing to consider. Most of us are going with China brand phones not only because they're so cool, but because the offer great bang for the buck. Licensing of ARM big.LITTLE technology is pricier than licensing Cortex A7 alone.</li> </ul> I'll be exploring the first point more in an upcoming post.

Damian Parsons

https://plus.google.com/107879368390224447304

admin@gizbeat.com

Administrator

Hi, I'm Damian Parsons. I've been working with Android phones since the first Droid came out. I'm fascinated by computers and technology. My first BBS were ran on an old Apple IIc and Commodore 64. I work hard to bring the latest updates to you every day - without all the boring fluff. Please subscribe to keep up on the newest China tech. See our forum -> www.chinaphonearena.com

GizBeat
---
---