MTK6592 Green Orange NX Phone Went On Sale Today!
---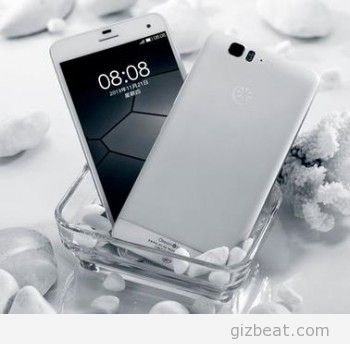 The MT6592 Green Orange NX was officially announced on November 21st. Today at 10:00am, the phone went on pre-sale in China. It's scheduled to be released on December 30th.
The Green Orange NX is available in gray, blue, gold and silver. The NX will have an 8-core MT6592 clocked at 1.7GHz. 5.5″ 1080p LG brand LCD, 5mp front camera, 13mp rear, big 2900mA battery and include the goodies – NFC/MHL/OTG/Gyroscope. The NX will host a big 2GB RAM and mega 32GB ROM. Word is that it will support dual WCDMA 3G with TD-SCDMA and WCDMA combined. If you're not in China, the TD-SCDMA will be of no use.
The looks of the phone are bland and nondescript despite the fancy promo shots. The cost in our opinion is ridiculous with a pre-sale price of 2800 yuan ($450USD). It's impossible to recommend this phone at that price. Perhaps if they knocked $100 off it could be considered. For now, it's a phone to pass on.
Still no word on a solid release date with Zopo ZP998 or THL T100, though likely it will be end of December.
See more of our previews at chinaphonecompare.
MTK6592 Green Orange NX Phone Went On Sale Today!

https://www.gizbeat.com/2658/mtk6592-green-orange-nx-phone-went-on-sale-today/

https://www.gizbeat.com/wp-content/uploads/2013/12/green-orange-mx-mtk6592.jpg

https://www.gizbeat.com/wp-content/uploads/2013/12/green-orange-mx-mtk6592-150x150.jpg

MTK6592

The MT6592 Green Orange NX was officially announced on November 21st. Today at 10:00am, the phone went on pre-sale in China. It's scheduled to be released on December 30th. The Green Orange NX is available in gray, blue, gold and silver. The NX will have an 8-core MT6592 clocked at...

<img class="aligncenter size-medium wp-image-2659" alt="green-orange-mx-mtk6592" src="http://gizbeat.com/wp-content/uploads/2013/12/green-orange-mx-mtk6592-350x344.jpg" width="350" height="344" />The MT6592 Green Orange NX was officially announced on November 21st. Today at 10:00am, the phone went on pre-sale in China. It's scheduled to be released on December 30th. The Green Orange NX is available in gray, blue, gold and silver. The NX will have an 8-core MT6592 clocked at 1.7GHz. 5.5" 1080p LG brand LCD, 5mp front camera, 13mp rear, big 2900mA battery and include the goodies<span id="more-2658"></span> - NFC/MHL/OTG/Gyroscope. The NX will host a big 2GB RAM and mega 32GB ROM. Word is that it will support dual WCDMA 3G with TD-SCDMA and WCDMA combined. If you're not in China, the TD-SCDMA will be of no use. The looks of the phone are bland and nondescript despite the fancy promo shots. The cost in our opinion is ridiculous with a pre-sale price of 2800 yuan ($450USD). It's impossible to recommend this phone at that price. Perhaps if they knocked $100 off it could be considered. For now, it's a phone to pass on. Still no word on a solid release date with <a title="Zopo ZP998 Officially Released Today! ZP998 Antutu Score!" href="http://gizbeat.com/2492/zopo-zp998-officially-released-today-zp998-antutu-score/" target="_blank">Zopo ZP998</a> or <a title="THL T100 MTK6592 Monkey King 2 Preview!" href="http://gizbeat.com/2553/thl-t100-mtk6592-monkey-king-2-preview/" target="_blank">THL T100</a>, though likely it will be end of December. <a href="http://chinaphonecompare.com" target="_blank">See more of our previews at chinaphonecompare.</a>

Damian Parsons

https://plus.google.com/107879368390224447304

admin@gizbeat.com

Administrator

Hi, I'm Damian Parsons. I've been working with Android phones since the first Droid came out. I'm fascinated by computers and technology. My first BBS were ran on an old Apple IIc and Commodore 64. I work hard to bring the latest updates to you every day - without all the boring fluff. Please subscribe to keep up on the newest China tech. See our forum -> www.chinaphonearena.com

GizBeat
---
---