Qualcomm Snapdragon 410 = Budget 64-Bit CPU SoC!
---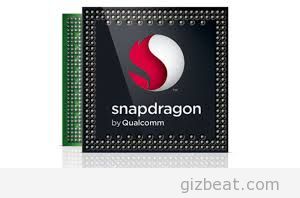 Hot on the heels of our recent news regarding MediaTek MTK coming with 64-bit architecture in 2014 is a big announcement from Qualcomm. They'll be putting out a 64-Bit CPU as well – the Snapdragon 410.
The Qualcomm Snapdragon 410 will be using 28nm technology and will be available by mid-2013. Full 1080p HD playback and recording will be supported as well as 13mp shooting. The GPU will be Adreno 306.
The 410 is a full on SoC, including support for FM, NFC, 4G LTE, 3G WCDMA, and GPS with Glonass support.
Operating system wise, the Snapdragon 410 will support Windows phones, Android, and Firefox OS.
The 410 will support single, dual, and triple SIMs.
The great news is that the Qualcomm Snapdragon 410 will be used in budget phones priced in the sub-$200 range. A year back, I was writing about how Qualcomm should be shaking in their boots. Now it's the other way around. I will always be a big fan of MediaTek, but they truly need to step up their game.
If 64-bit Qualcomm CPUs with triple-SIMs and international LTE support start coming in phones in the $200 ball park, this is bad news for MediaTek. Budget smartphones has mostly been MTK's domain, and most of most of their success has been from making a very good budget CPU.
Specification wise, the MTK phones generally give far better bang for the buck. Try finding a 5″ IPS 1080p 2GB RAM / 32GB ROM phone from Qualcomm for $250. It doesn't exist. I think Qualcomm is finally waking up to the fact that most of the world just can't, or won't shell out $700 for a phone with specs like this. This price range is a gigantic piece of the world market and I think they're deciding it's time to take advantage.
This is a full-court press and if MediaTek is paying attention, they need to come with something big or we may very well see players such as THL, Jiayu, TCL and Zopo switching teams.
Qualcomm Snapdragon 410 = Budget 64-Bit CPU SoC!

https://www.gizbeat.com/2743/qualcomm-snapdragon-410-budget-64-bit-cpu-soc/

https://www.gizbeat.com/wp-content/uploads/2013/12/snapdragon.jpg

https://www.gizbeat.com/wp-content/uploads/2013/12/snapdragon-150x150.jpg

Noteworthy

Opinion

Qualcomm

Hot on the heels of our recent news regarding MediaTek MTK coming with 64-bit architecture in 2014 is a big announcement from Qualcomm. They'll be putting out a 64-Bit CPU as well - the Snapdragon 410. The Qualcomm Snapdragon 410 will be using 28nm technology and will be available by...

<img class="aligncenter size-full wp-image-2744" alt="snapdragon" src="http://gizbeat.com/wp-content/uploads/2013/12/snapdragon.jpg" width="300" height="198" />Hot on the heels of our recent news regarding MediaTek MTK coming with 64-bit architecture in 2014 is a big announcement from Qualcomm. They'll be putting out a 64-Bit CPU as well - the Snapdragon 410.<span id="more-2743"></span> The Qualcomm Snapdragon 410 will be using 28nm technology and will be available by mid-2013. Full 1080p HD playback and recording will be supported as well as 13mp shooting. The GPU will be Adreno 306. The 410 is a full on SoC, including support for FM, NFC, 4G LTE, 3G WCDMA, and GPS with Glonass support. Operating system wise, the Snapdragon 410 will support Windows phones, Android, and Firefox OS. The 410 will support single, dual, and triple SIMs. The great news is that the Qualcomm Snapdragon 410 will be used in budget phones priced in the sub-$200 range. A year back, I was writing about how Qualcomm should be shaking in their boots. Now it's the other way around. I will always be a big fan of MediaTek, but they truly need to step up their game. If 64-bit Qualcomm CPUs with triple-SIMs and international LTE support start coming in phones in the $200 ball park, this is bad news for MediaTek. Budget smartphones has mostly been MTK's domain, and most of most of their success has been from making a very good budget CPU. Specification wise, the MTK phones generally give far better bang for the buck. Try finding a 5" IPS 1080p 2GB RAM / 32GB ROM phone from Qualcomm for $250. It doesn't exist. I think Qualcomm is finally waking up to the fact that most of the world just can't, or won't shell out $700 for a phone with specs like this. This price range is a gigantic piece of the world market and I think they're deciding it's time to take advantage. This is a full-court press and if MediaTek is paying attention, they need to come with something big or we may very well see players such as THL, Jiayu, TCL and Zopo switching teams.

Damian Parsons

https://plus.google.com/107879368390224447304

admin@gizbeat.com

Administrator

Hi, I'm Damian Parsons. I've been working with Android phones since the first Droid came out. I'm fascinated by computers and technology. My first BBS were ran on an old Apple IIc and Commodore 64. I work hard to bring the latest updates to you every day - without all the boring fluff. Please subscribe to keep up on the newest China tech. See our forum -> www.chinaphonearena.com

GizBeat
---
---