MTK mt6588 Specs and Key Points and MTK CPU Comparison Graph (part 3)
---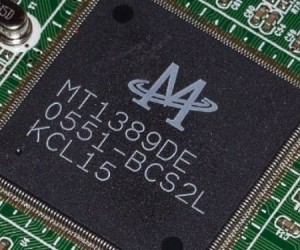 Okay, so now that we've discussed the ability of the MTK6588 camera being able to handle 13mp photos, let's get on with the MTK MT6589 / MTK6589's 1080p video support.  At the bottom of this post there's a graph comparing the various recent and upcoming CPUs from MTK.
MTK 6588 will support 1080p video recording and decoding:  Now this is great.  Simply amazing that about a year ago, MTK's 6516 with 416mhz CPU was their top of the line!  It was first generation of full Android compatibility, and now we're already looking at the 4th gen coming out with the ability to encode 1080p.  Though of course, the LCD's won't be 1080p (Or will they? See point 3 in part 4 of this mini-series),  you'll still be able to playback 1080p television and computer monitors.  Youtube now supports video uploads of 4k (1080p x 4).
Some phones like the Zopo zp200 are even starting to come with HDMI out, so you'd be able to directly output your 1080p phone movies from MTK MT6589 / MTK6589 phones with this feature.
The downside? BIG files.  Our puny 32 and 64Gb SD's can only hold so much.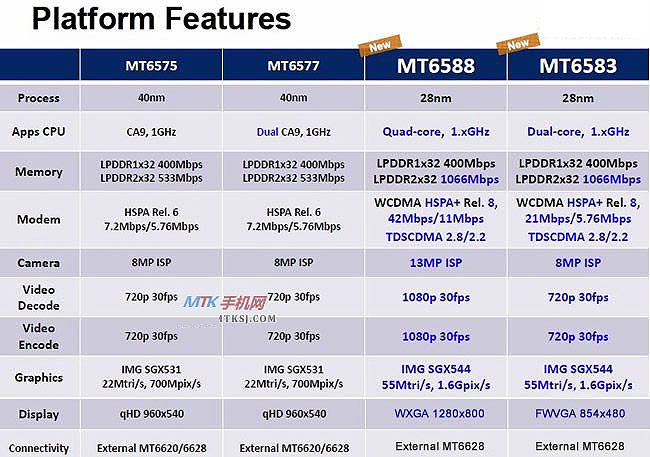 More to come tomorrow in part 4, where I'll discuss the final 2 points about MTK MT6589 / MTK6589:
MTK MT6589 / MTK6589 will officially support 720p 1280×800 display.
MTK MT6589 / MTK6589 will have the SGX 544 GPU!
MTK mt6588 Specs and Key Points and MTK CPU Comparison Graph (part 3)

https://www.gizbeat.com/277/mtk-mt6588-specs-and-key-points-and-mtk-cpu-comparison-graph-part-3/

https://www.gizbeat.com/wp-content/uploads/2012/09/mediatek-chip1-300x250.jpg

https://www.gizbeat.com/wp-content/uploads/2012/09/mediatek-chip1-300x250-150x150.jpg

Brands

MT6589

MTK6589

Tech

Okay, so now that we've discussed the ability of the MTK6588 camera being able to handle 13mp photos, let's get on with the MTK MT6589 / MTK6589's 1080p video support.  At the bottom of this post there's a graph comparing the various recent and upcoming CPUs from MTK. MTK 6588...

<a href="http://gizbeat.com/277/mtk-mt6588-specs-and-key-points-and-mtk-cpu-comparison-graph-part-3/mediatek-chip1-300x250/" rel="attachment wp-att-278"><img class="alignleft size-full wp-image-278" title="mediatek-chip1-300x250" src="http://gizbeat.com/wp-content/uploads/2012/09/mediatek-chip1-300x250.jpg" alt="" width="300" height="250" /></a>Okay, so now that we've discussed the ability of the <a title="Specs and estimated release date on the quad-core MTK MT6589 / MTK6589! (part 2)" href="http://gizbeat.com/230/specs-and-estimated-release-date-on-the-quad-core-mtk-mt6588-part-2/">MTK6588 camera</a> being able to handle 13mp photos, let's get on with the MTK MT6589 / MTK6589's 1080p video support.  At the bottom of this post there's a graph comparing the various recent and upcoming CPUs from MTK.<span id="more-277"></span> <ul> <li>MTK 6588 will support 1080p video recording and decoding:  Now this is great.  Simply amazing that about a year ago, MTK's 6516 with 416mhz CPU was their top of the line!  It was first generation of full Android compatibility, and now we're already looking at the 4th gen coming out with the ability to encode 1080p.  Though of course, the LCD's won't be 1080p (Or will they? See point 3 in part 4 of this mini-series),  you'll still be able to playback 1080p television and computer monitors.  Youtube now supports video uploads of <a title="Megapixel Tech in televisions 84″ and under reaching it's peak – '4k' (8mp)" href="http://gizbeat.com/53/megapixel-tech-in-televisions-84-and-under-reaching-its-peak-4k-8mp/">4k</a> (1080p x 4).</li> </ul> <p style="padding-left: 60px;">Some phones like the Zopo zp200 are even starting to come with HDMI out, so you'd be able to directly output your 1080p phone movies from MTK MT6589 / MTK6589 phones with this feature.</p> <p style="padding-left: 60px;">The downside? BIG files.  Our puny 32 and 64Gb SD's can only hold so much.</p> <a href="http://gizbeat.com/277/mtk-mt6588-specs-and-key-points-and-mtk-cpu-comparison-graph-part-3/table/" rel="attachment wp-att-279"><img class="aligncenter size-full wp-image-279" title="table" src="http://gizbeat.com/wp-content/uploads/2012/09/table.jpg" alt="" width="650" height="457" /></a> More to come tomorrow in <a title="MTK6588 Resolution Prediction (MTK MT6589 / MTK6589 – part 4)" href="http://gizbeat.com/317/MTK MT6589 / MTK6589-resolution-prediction-mtk-mt6588-part-4/">part 4</a>, where I'll discuss the final 2 points about MTK MT6589 / MTK6589: <ul> <li>MTK MT6589 / MTK6589 will officially support 720p 1280x800 display.</li> <li>MTK MT6589 / MTK6589 will have the SGX 544 GPU!</li> </ul>

Damian Parsons

https://plus.google.com/107879368390224447304

admin@gizbeat.com

Administrator

Hi, I'm Damian Parsons. I've been working with Android phones since the first Droid came out. I'm fascinated by computers and technology. My first BBS were ran on an old Apple IIc and Commodore 64. I work hard to bring the latest updates to you every day - without all the boring fluff. Please subscribe to keep up on the newest China tech. See our forum -> www.chinaphonearena.com

GizBeat
---
---