New mtk6577 Oppo T29 Super-Capacity Sony Battery – Leaked Pictures and Specs!
---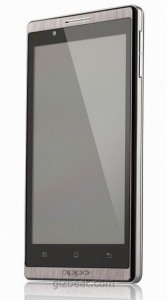 We've all known Oppo to push the limits with their world-class super-slim smartphones. Well, they're bucking the tradition and putting out a mtk mt6577 / mtk6577 smartphone with a 3000mAh Sony battery!
The Oppo T29 will be 1gb RAM/4gb ROM and feature "Dual-MIC call-quieting technology". Apparently this feature includes a mic both at the top, and the bottom of the phone.
The LCD will be 4.5″ 960*540 IPS. Considering the battery, it's still a relatively thin 10.65mm. I'm really liking the looks of this phone. The brushed-aluminum bezel adds a sweet touch of class. Check out the interesting speaker in back. Camera will be 8mp and feature an almost unheard of 3mp front camera as well.
Giz-drool-worthy no doubt! They're going with MTK as opposed to high-end Snapdragon, so hopefully they can keep the price at $300 or less.
I would guess this phone is at least 2 months out, but will keep you updated. Please subscribe and comment. Cheers!
[portfolio_slideshow]
New mtk6577 Oppo T29 Super-Capacity Sony Battery – Leaked Pictures and Specs!

https://www.gizbeat.com/494/new-mtk6577-oppo-t29-super-capacity-sony-battery-leaked-pictures-and-specs/

https://www.gizbeat.com/wp-content/uploads/2012/09/zBpjmMMRrqZM1.jpg

https://www.gizbeat.com/wp-content/uploads/2012/09/zBpjmMMRrqZM1-150x150.jpg

Brands

We've all known Oppo to push the limits with their world-class super-slim smartphones. Well, they're bucking the tradition and putting out a mtk mt6577 / mtk6577 smartphone with a 3000mAh Sony battery! The Oppo T29 will be 1gb RAM/4gb ROM and feature 'Dual-MIC call-quieting technology'. Apparently this feature includes a...

<a href="http://gizbeat.com/494/new-mtk6577-oppo-t29-super-capacity-sony-battery-leaked-pictures-and-specs/zbpjmmmrrqzm-2/" rel="attachment wp-att-761"><img class="alignleft size-medium wp-image-761" title="zBpjmMMRrqZM" src="http://gizbeat.com/wp-content/uploads/2012/09/zBpjmMMRrqZM1-167x300.jpg" alt="" width="167" height="300" /></a>We've all known Oppo to push the limits with their world-class super-slim smartphones. Well, they're bucking the tradition and putting out a mtk mt6577 / mtk6577 smartphone with a 3000mAh Sony battery!<span id="more-494"></span> The Oppo T29 will be 1gb RAM/4gb ROM and feature "Dual-MIC call-quieting technology". Apparently this feature includes a mic both at the top, and the bottom of the phone. The LCD will be 4.5" 960*540 IPS. Considering the battery, it's still a relatively thin 10.65mm. I'm really liking the looks of this phone. The brushed-aluminum bezel adds a sweet touch of class. Check out the interesting speaker in back. Camera will be 8mp and feature an almost unheard of 3mp front camera as well. Giz-drool-worthy no doubt! They're going with MTK as opposed to high-end Snapdragon, so hopefully they can keep the price at $300 or less. I would guess this phone is at least 2 months out, but will keep you updated. Please subscribe and comment. Cheers! [portfolio_slideshow]

Damian Parsons

https://plus.google.com/107879368390224447304

admin@gizbeat.com

Administrator

Hi, I'm Damian Parsons. I've been working with Android phones since the first Droid came out. I'm fascinated by computers and technology. My first BBS were ran on an old Apple IIc and Commodore 64. I work hard to bring the latest updates to you every day - without all the boring fluff. Please subscribe to keep up on the newest China tech. See our forum -> www.chinaphonearena.com

GizBeat
---
---