MTK6577 Kai T1 Excursion Goes on Presale! (w- Video and Official Stats / Statistics)
---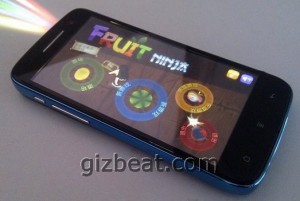 Once again, we have another presale, though nothing more was to be expected. The Kai T1 Exursion will go on presale October 8th.

This is a seldomly previewed / talked about phone, but I like to throw it some love as I respect a company that dares to come out with something a little different. Kai easily could of made yet another iPhone 5 or HTC clone, yet they decided to buck the trend.
It's interesting to note that the Kai T1 Excursion's projector is 3 lumens more powerful than the mainstream Samsung Beam I8350, and reportedly packs the 1.2Ghz version of mtk mt6577 / mtk6577.
MTK6577 Kai T1 Excursion Goes on Presale! (w- Video and Official Stats / Statistics)

https://www.gizbeat.com/791/mtk6577-kai-t1-excursion-goes-on-presale-w-video-and-official-stats-statistics/

https://www.gizbeat.com/wp-content/uploads/2012/09/mtk6577-mtk6588-kai-t1-excursion-450x302.jpg

https://www.gizbeat.com/wp-content/uploads/2012/09/mtk6577-mtk6588-kai-t1-excursion-150x150.jpg

Brands

Once again, we have another presale, though nothing more was to be expected. The Kai T1 Exursion will go on presale October 8th. This is a seldomly previewed / talked about phone, but I like to throw it some love as I respect a company that dares to come out...

<a href="http://gizbeat.com/791/mtk6577-kai-t1-excursion-goes-on-presale-w-video-and-official-stats-statistics/mtk6577-mtk6588-kai-t1-excursion/" rel="attachment wp-att-798"><img class="alignleft size-medium wp-image-798" title="mtk6577-mtk6588-kai-t1-excursion" src="http://gizbeat.com/wp-content/uploads/2012/09/mtk6577-mtk6588-kai-t1-excursion-300x201.jpg" alt="" width="300" height="201" /></a>Once again, we have another presale, though nothing more was to be expected. The Kai T1 Exursion will go on presale October 8th. <span id="more-791"></span> This is a seldomly previewed / talked about phone, but I like to throw it some love as I respect a company that dares to come out with something a little different. Kai easily could of made yet another iPhone 5 or HTC clone, yet they decided to buck the trend. It's interesting to note that the Kai T1 Excursion's projector is 3 lumens more powerful than the mainstream Samsung Beam I8350, and reportedly packs the 1.2Ghz version of mtk mt6577 / mtk6577. http://youtu.be/e5PUszdZ2_E <em><a title="Kai T1 Excursion mtk6577 Projection Phone – New Photos / Pricing Date / Updated Specs" href="http://gizbeat.com/693/kai-t1-excursion-mtk6577-projection-phone-new-photos-pricing-date-updated-specs/">Click here for more Pictures</a></em>

Damian Parsons

https://plus.google.com/107879368390224447304

admin@gizbeat.com

Administrator

Hi, I'm Damian Parsons. I've been working with Android phones since the first Droid came out. I'm fascinated by computers and technology. My first BBS were ran on an old Apple IIc and Commodore 64. I work hard to bring the latest updates to you every day - without all the boring fluff. Please subscribe to keep up on the newest China tech. See our forum -> www.chinaphonearena.com

GizBeat
---
---